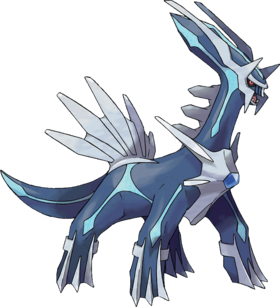 Character Name: Dialga
Universe Name: Pokémon
Race: Temporal Pokémon
Gender: Genderless
Occupation: Ruling Pokétime
Status In Regards To The Plot: Antagonist turned Protagonist | Forced Antagonist
Series Tier: Top Tier | Top Tier
Powers and Abilities: Time Manipulation/ Distortion, Time Travel, Reality Warping, Flight, Telekenesis, Telepathy | Space Manipulation/ Distortion, Reality Warping, Flight
Destructive Capability: Low Multiversal with Temporal Manipulation and Reality Warping. Multi City Block with Other Attacks | Low Multiversal with Temporal Manipulation (only shown in conjunction with Palkia; their fight caused time and space itself to begin to collapse, almost forming a new universe)
Range: Low Multiversal with Temporal Manipulation and Reality Warping | Low Multiversal with Temporal Manipulation and Reality Warping
Accuracy: Doesn't need any for Temporal Manipulation.
Durability: Low Multiversal | Low Multiversal
Stamina: No limits have been shown | No limits have been shown
Weakness: None Notable | None Notable
Speed: Movement: Can travel almost instantaneously with a wormhole
Intelligence: None Notable | None Notable
Standard Equipment: None | None
Notable Techniques (Anime):
-Roar of Time: Launches a blast of energy at the opponent that is so strong it distorts time
-Hyper Beam: A beam of concentrated energy is shot at the opponent
-Draco Meteor: Causes a small meteor shower like attack to rain down upon the opponent
-Protect: Dialga creates an energy shield around itself to block attacks
Other:
Battle History in the Arena:
Anime | Adventures
Ad blocker interference detected!
Wikia is a free-to-use site that makes money from advertising. We have a modified experience for viewers using ad blockers

Wikia is not accessible if you've made further modifications. Remove the custom ad blocker rule(s) and the page will load as expected.