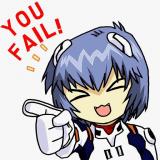 Example of failed battle threads in
The Arena
.
By any means please don't create similiar threads to these:
Itachi vs Byakuta- 2 Trolls showed up and started to troll. The members of the Arena all had fun trolling back and had a party afterwords
Ichigo Kurosaki vs Yusuke Urameshi (A troll went wild with the report button. The thread was permenantly delted because of the sheer stupidity the troll gave. Edit: This thread might be the reason 4 debators were banned.)
Goku vs Anyone thread (this thread was permenantly deleted due to it's insane amounts of stupidity and illogical reasoning despite other debaters attempts to correct the user, thus no trace of it remains)
Anything OtakuGod3 has created, such as: This

I have also made several stomp threads but i make it perfectly clear that they are just joke stomp threads that are for fun. -zer0light
Ad blocker interference detected!
Wikia is a free-to-use site that makes money from advertising. We have a modified experience for viewers using ad blockers

Wikia is not accessible if you've made further modifications. Remove the custom ad blocker rule(s) and the page will load as expected.