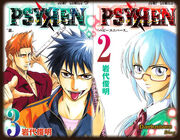 A manga from Toshiaki Iwashiro with a total of 145 chapters which focus on the adventure of Yoshina Ageha and his crush Amamiya Sakurako in the world of "surprise-surprise" Psyren.

The two along with other Psyren drifters and other helpers, weaved the 'Gantz run on psychic power' story.
Standing on the Arena
Edit
Not many people known about this verse, and their threads only get a few people's attention.
As a verse, they're generally on par with HxH.
Character profile
Edit
Ad blocker interference detected!
Wikia is a free-to-use site that makes money from advertising. We have a modified experience for viewers using ad blockers

Wikia is not accessible if you've made further modifications. Remove the custom ad blocker rule(s) and the page will load as expected.