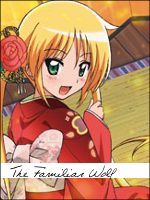 A pure fanboy for loli
, who joined MangaFox on 29th October 2009. Eventhought had joined much earlier, I fully become obssesed with The Arena Section during
LL's Anime/Manga Ultimate Character Tournament
A gamer and also an otaku, I'm am purely fag for Kugimiya Rie's role, which alternatively means that whenever they are pitted in OBD, 90% chanc that I will troll that thread.
I also not that good as a debater but still in training to hold my fanboyism from purely changing me into a troll.
Interest
- Sanzen'in Nagi
- Four Tsundere Wonders - Kugimiya Rie (.....)
- Loli
- Tsundere
- Any shows that have comedy
- Any shows that have comedy and badassness.
Any comments or etc, just edit it xD
Ad blocker interference detected!
Wikia is a free-to-use site that makes money from advertising. We have a modified experience for viewers using ad blockers

Wikia is not accessible if you've made further modifications. Remove the custom ad blocker rule(s) and the page will load as expected.